Twiga Foods
Africa
Agriculture
Revolutionizing African Retailers with Twiga
Waking up every day at 4 a.m. Going to the wholesale market trying to buy the freshest fruits and vegetables, among hundreds of questionable ones. Transporting the merchandise to their small vendors. And, finally, opening for business. This used to be the routine of an African vendor before the Twiga app came along in 2014. Today, all kinds of fruits and vegetables are available to 45 thousand vendors to buy in just one click, as easy as ordering a book on Amazon.
But how did the Kenyan entrepreneur Peter Njonjo go from two decades working at The Coca-Cola Company to tackling the market issues the African food supply chain faces? Trying to answer that will help explain why he is an Endeavor Entrepreneur and Outlier, recognized by his company's performance and his commitment to paying it forward.
"If you visit most African cities, you're bound to notice at least two things — the unmissable sight of informal retailers that line the streets and marketplaces and the abundance of arable land. However, food production and distribution remain a challenge across the continent", says Kenyan Peter Njonjo, CEO and Founder of Twiga Foods.
Why? The retail food markets are so fragmented and informal that the supply chain discourages investments in farming. In addition, the number of intermediaries between farmers and consumers increases the price of produce to unaffordable numbers. According to World Bank Data, Kenya spends 55% of its disposable income on food. Nigeria spends 60%. In comparison, the UK spends only 8%.
To tackle this chronic problem, Njonjo created Twiga Foods in 2014 as a B2B eCommerce marketplace platform that would source produce directly from farmers and deliver it to urban retailers.
"We are using a mobile-based, cashless platform to aggregate the demand of thousands of small and medium-sized retailers in Kenya, enabling them to order fresh and processed food, as and when needed," he explains.
Farmers and food manufacturers have guaranteed access to a fairly-priced, mobile marketplace. As a result, retailers can routinely source lower-cost, higher-quality produce, delivered to their doorstep within 18 hours of ordering.
According to Business Insider Africa, since its launch, the company has helped over 17,000 fresh food producers by ensuring an average delivery of three times a week to 8,000 retailers. The change in the supply chain has resulted in a reduction of food prices for consumers, and Twiga is targeting a pan-African expansion to East African markets like Uganda and Tanzania.
Twiga is also investing in developing an alternative way of producing food on the continent and covering both ends of traceability and mass scale. The initiative aims to reduce consumers' prices for popular domestic plant-based food products by over 30%.
"Working with our investment partners, we continue to tackle the challenges of food insecurity by using technology to develop commercial solutions and work with existing industry players to deliver better quality and lower-cost food," concludes Njonjo.
To support Twiga's spike of growth, Peter has been part of the Endeavor community since 2017 and, more recently, received an investment from Endeavor Catalyst after a recent Series C round. He is also a local Endeavor Board Member in Kenya, helping build the future of their entrepreneurial ecosystem.
"Endeavor is like a buffet. You will get whatever you have an appetite for. My appetite changed throughout my journey. When I joined Endeavor, my challenges were very operational. Right now, I'm looking at more fundraising going forward, along with insights on how to read the market."
In 25 years, the African population will surpass 1 billion people, doubling over the current numbers. To feed the entire population, the solutions provided by Twiga are game-changing: by giving fair-trade access to farmers, vendors, and consumers, and changing the traditional logic of the entire supply chain, Twiga is setting the foundation upon which a whole noble industry will evolve.
More Success Stories
Mohamad Ballout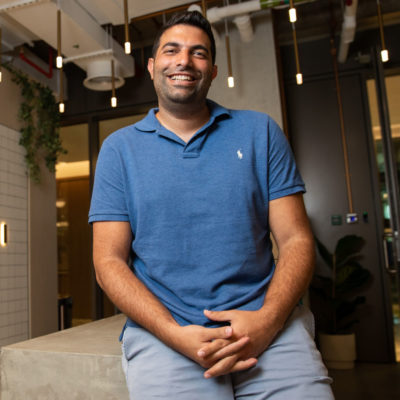 Kitopi
Food & Beverage
Middle East
Kitopi is the world's leading cloud kitchen platform enabling restaurants to open delivery-only locations by providing necessary infrastructure and software with minimal capital expenditures and time, taking care of the entire customer journey.
Vu Van
ELSA
Education & Talent
Asia
ELSA (English Language Speech Assistant) is a mobile application using speech recognition to train English pronunciation and reduce accents. ELSA joined the Endeavor Global Community in 2020 at the 5th Virtual ISP through the Vietnam Office.
Gbenga "GB" Agboola
Flutterwave
Fintech
Africa
Flutterwave provides payments technology and infrastructure to enable people and businesses in Africa to connect with the global economy. Gbenga "GB" Agboola and Ife "IO" Orioke joined the Endeavor community in 2019.