Clip
Latin America
Fintech
Adolfo Babatz Transforms the Fintech Experience in Mexico
After graduating from MIT Sloan, Adolfo joined Paypal where he helped launch the company's operations in Mexico and Brazil. It was at PayPal that he identified the opportunity for what would become Clip. At first he tried to pitch the business internally, but when that failed, he decided to "bet on the farm." Starting with an office at San Diego Library and slowly moving up, Clip introduced the first chip card readers to Mexico and today is the country's leading solution for Mexican businesses to accept digital payments. With more than 400 "ordinary people doing truly extraordinary things," as Adolfo likes to say, Clip changed the face of payments in the country and was a first-mover in a now robust fintech ecosystem.
" We always think that building a tech company is a nearly impossible task — something we only see in the news or a faraway place; but the reality is that anyone can create impossible things as long as they focus on the dream"
At the time when Adolfo launched Clip, tech and venture capital in Mexico were not widely understood or available. Starting with $1.5 million raised in early 2013, every round the company closed was the highest round ever raised for a tech startup in the country at the time.
In those early days, Adolfo recalls the role Endeavor played: "I am a completely changed person for the better. Especially those early years — 2014 and 2015 — were instrumental in what I eventually became, and Endeavor was very important in that process. I am different because of what I had to go through in the early years; it was rough — I made so many mistakes," Adolfo recalls, "and Endeavor was my safe place."
In June 2021, Clip became the first payments unicorn in Mexico, the 12th largest economy in the world, and one of just a handful in the country, and reaffirmed its commitment to continue building Mexico's operating platform for commerce.
Beyond this, Clip continues to have a widespread impact on Mexico's economy by providing higher commissions to local businesses, and partnering with the Central Bank of Mexico to make recommendations to grow the country's economic status. Adolfo is the first Mexican Endeavor Entrepreneur to join the Endeavor Mexico board, is a frequent mentor to fellow founders, and is a prominent role model and thought leader in Mexico's entrepreneurship ecosystem.
More Success Stories
Mohamad Ballout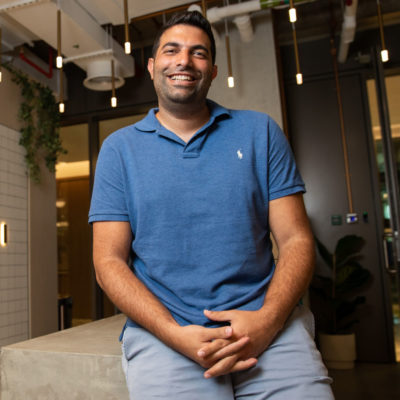 Kitopi
Food & Beverage
Middle East
Kitopi is the world's leading cloud kitchen platform enabling restaurants to open delivery-only locations by providing necessary infrastructure and software with minimal capital expenditures and time, taking care of the entire customer journey.
Vu Van
ELSA
Education & Talent
Asia
ELSA (English Language Speech Assistant) is a mobile application using speech recognition to train English pronunciation and reduce accents. ELSA joined the Endeavor Global Community in 2020 at the 5th Virtual ISP through the Vietnam Office.
Melvyn Lubega & Andrew Barnes
Melvyn Lubega & Andrew Barnes
Go1
Education & Talent
Africa
Go1 is a platform for onboarding, professional development and compliance training for businesses and their employees. Since joining the Endeavor Global community in 2017 through the South African Office, Go1 has expanded operations across the globe.