Clip
Latin America
Fintech
How Clip paved the way for the Mexican fintech ecosystem
Blazing a new trail can be fairly challenging because disrupting a new market often requires fumbling through unclear regulatory evaluations, educating future consumers, and developing innovative products without a playbook, all while staying ahead of incumbent competitors.
Scale-up, Clip, cracked the code for many "firsts" in Mexico. In less than a decade, Clip has become a Mexican fintech giant, the first payment unicorn in the country, and SoftBank's Latin America Fund's first investment. Adolfo Babatz, Clip's founder, was also the first entrepreneur to join Endeavor's board in Mexico, being a frequent mentor to fellow founders, a prominent role model, and a thought leader. Babatz is proof that when one great entrepreneur achieves unprecedented success, an entire ecosystem benefits.
"We let small and medium-sized businesses work for their clients while we take care of the less sexy, but a fundamental part of the business: their payments," said Babatz.
Babatz launched Clip in 2012 with a team of five people, using in-house technology that became the go-to payment acceptance platform for the segment in Mexico.
After graduating from MIT's Sloan School of Management in 2008, Babatz joined PayPal's Latin American team, helping launch the company in Brazil and Mexico. However, after two years of working in his native country, he noted a systemic challenge: local small and medium-sized businesses lacked a payment terminal to accept credit and debit card payments.
Babatz would see countless small vendors lose opportunities as they operated cash-only, while potential clients preferred credit cards. The need for technology in this space was much-needed, and he knew he could be the one to solve the problem.
Babatz pitched the idea to PayPal, but the team did not show interest in finding a solution, so he left his job to venture into his own business, launching Clip with $1.5 million raised in early 2013. Every round the company closed since launching was the highest round ever raised for a tech startup in the country.
From PayPal, Babatz brought with him a valuable lesson: the importance of building customer-centric products. Before developing the product, the team conducted in-depth interviews with potential clients to understand how they could solve their business needs. Creating the technology in-house allowed for a precise approach to meeting local market needs and the company employed the same approach when it came to marketing and distribution.
In the first three years, however, Babatz missed the importance of building the company culture and hiring the right team. Once he joined Endeavor in 2014, the network helped him revert the situation and attract a stellar group of executives to complement his skills.
Clips' technology was crucial for retailers when customers turned to touchless and reliable payment during the pandemic. In June of 2021, Clip became a unicorn with a $2 billion valuation, employing 600 people in the U.S. and Mexico. In addition, the company provides higher commissions to local Mexican businesses and partners with the Central Bank of Mexico to make recommendations to grow the country's economic status.
"Clip is made of ordinary people doing extraordinary things. We always think that building a tech company is a nearly impossible task — something we only see in the news or in a faraway place. But the reality is that anyone can create impossible things as long as they focus on the dream," says Adolfo.
More Success Stories
Daniel Scandian, Marcelo Scandian, Robson Privado
Daniel Scandian, Marcelo Scandian, Robson Privado
MadeiraMadeira
Retail & Consumer Tech
Latin America
2021's first Brazilian unicorn, MadeiraMadeira makes international household trends financially and logistically accessible using a cost-effective drop-shipping model. In 2019, Daniel, Marcelo, and Robson became Endeavor Entrepreneurs in Turkey.
Mohamad Ballout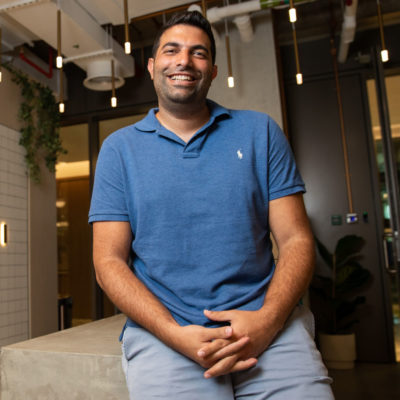 Kitopi
Food & Beverage
Middle East
Kitopi is the world's leading cloud kitchen platform enabling restaurants to open delivery-only locations by providing necessary infrastructure and software with minimal capital expenditures and time, taking care of the entire customer journey.
Vu Van
ELSA
Education & Talent
Asia
ELSA (English Language Speech Assistant) is a mobile application using speech recognition to train English pronunciation and reduce accents. ELSA joined the Endeavor Global Community in 2020 at the 5th Virtual ISP through the Vietnam Office.