MadeiraMadeira
Latin America
Retail & Consumer Tech
MadeiraMadeira Believes Winning Means Staying in the Game
When Daniel Scandian, Marcelo Scandian, and Robson Privado founded MadeiraMadeira in 2009, they were likely ahead of their time since most Brazilian e-commerce platforms only sold electronic products.
Marketing success was limited because most local customers were still opposed to making online payments. Despite the daunting obstacles, the trio took the plunge and decided to launch an e-commerce platform for furniture and decor, but little did they know that they would be faced with varying problems that almost killed their company. To their credit, they were able to keep it alive and eventually thrive.
After working with his father's company, a flooring manufacturer that had recently collapsed due to the economic crisis of 2008, Daniel was inspired to build MadeiraMadeira.  He was motivated by the expertise he gained at his father's company, and began assembling the perfect team to venture into a new business.
At Endeavor, we often say that when economies turn down, entrepreneurs turn up, and Daniel, Marcelo, and Robson did just that.
Daniel, Marcelo, and Robson holding up their Endeavor Entrepreneur certificates after being selected at the 91st International Selection Panel in Istanbul.
The company's name originated from a charming story: when Daniel and Marcelo's father was in business, synthetic floors made their way into the industry. As such, customers started asking sellers: "Is this real wood?" To which the answer was: "Yes, it's wood wood." In Portuguese, "É MadeiraMadeira."
Soon, they built one of Brazil's first furniture e-commerce stores, shipping products directly from producers to customers while making a commission on every purchase. So far so good. In the first year of business, they funded the company themselves.  In the second year, momentum helped them obtain an unsecured loan. But the third year proved challenging. In year three, an unfortunate $80K fraud made them a strong bankruptcy candidate.
Thankfully, they secured an unexpected loan from their sisters to keep MadeiraMadeira afloat. However, with the escalating risks came the realization that backing the company through personal funds was not a card they could afford to use twice.
To keep building, they needed investors.
In 2012, MadeiraMadeira concluded its first round of funding from Monashees, Kaszek, and Frybridge, raising $1.5 million. Then, three years later, after a series B and two rounds of convertible debts, the company started to burn money. Finally, the capital was about to run out. Two more months and the game would be over. They were at a crossroads again.
They turned on survival mode. Daniel, Marcelo, and Robson had eight weeks to turn everything around. Five months later, MadeiraMadeira started to generate cash flow, and twelve months later, EBITDA turned positive.
Using a marketplace approach, the company grew solely from sales revenues. Later, they began manufacturing a furniture brand, expanding to create its own logistic and distribution strategy, a model applied by large e-commerce corporations like Amazon. Today, MadeiraMadeira offers customers about one million products: windows, doors, beds, lamps, and more.
" MadeiraMadeira has been growing at a yearly average of 80%, increasing to 120% in 2020 as people made their homes a priority due to the pandemic."
The Scandian brothers, Daniel and Marcelo, are already employing the pay it forward culture. In addition, Robson Privado has recently joined Endeavor Brazil's Board of Directors.
And while the entire retail sector pivoted to digital, MadeiraMadeira took the road less traveled and opened their first brick and mortar store in March of 2021. They later added 100+ new concept stores across Brazil.
Recounting the importance of obtaining investors, MadeiraMadeira raised $190 million as part of their Series E, led by Softbank and Dynamo, becoming one of the ten unicorns of Endeavor Brazil. They are also part of a select group of 48 companies worth more than $1 billion globally, supported by Endeavor.
Skyrocketing growth rates and increasing awareness may lead many to believe that the match has been won but, founders Daniel, Marcelo, and Robson don't value the finish line, but rather the journey. They prove that scaling a business from the south of Brazil is an infinite endeavor, but only if you have the energy to stay in the arena, with your head in the game, and willing to play.
More Success Stories
Adolfo Babatz
Clip
Fintech
Latin America
Clip is the leading solution in Mexico enabling small- and medium-sized merchants to accept digital payments. Since joining the Endeavor Global community, Endeavor has helped Adolfo navigate through the various phases of the entrepreneur journey.
Mohamad Ballout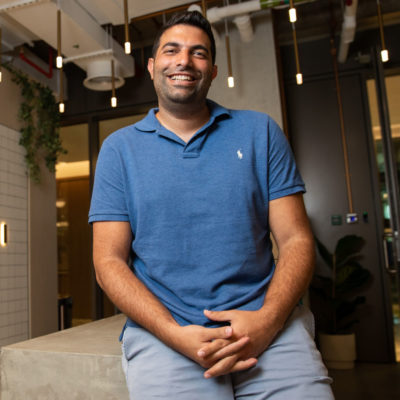 Kitopi
Food & Beverage
Middle East
Kitopi is the world's leading cloud kitchen platform enabling restaurants to open delivery-only locations by providing necessary infrastructure and software with minimal capital expenditures and time, taking care of the entire customer journey.
Vu Van
ELSA
Education & Talent
Asia
ELSA (English Language Speech Assistant) is a mobile application using speech recognition to train English pronunciation and reduce accents. ELSA joined the Endeavor Global Community in 2020 at the 5th Virtual ISP through the Vietnam Office.