ELSA
Asia
Education & Talent
Vu Van Transforms AI-Powered Language Learning in Vietnam and Around the World
More than 1.5 billion English learners across the world seek to speak English fluently with clear pronunciation and confidence. ELSA uses proprietary AI, speech recognition technology, and real-time feedback to help language learners improve their English fluency.
ELSA serves over 13 million customers worldwide and has been downloaded over 574,382 times in the last 30 days with a 21.09% monthly download growth.
" We are very honored and also excited to continue our mission of helping language learners break boundaries and achieve great things in their lives."
Vu Van, CEO & Co-founder, ELSA
(Endeavor Entrepreneur)
While pursuing her master's degree at Stanford, founder Vu Van discovered that she was oftentimes disregarded for her mispronunciation of English words given her strong Vietnamese accent. She soon found that this was a problem faced by many students and professionals who were non-native English speakers. Vu worked with Xavier Anguera, co-founder and CTO, to launch ELSA in 2015 as an AI-powered one-on-one tutor for English language learners.
ELSA is the only platform that has the technology to pinpoint individual syllable and phoneme level mistakes as well as fluency and intonation. After just three months of usage, 90% of ELSA users have better pronunciation, 95% are more confident, and 68% speak more clearly. The app is available on IOS and Android, and with users from 101 countries, ELSA has offices throughout the world including Vietnam, India, Portugal, Japan, and Indonesia.
ELSA joined Endeavor in 2020 at a critical inflection point with plans to accelerate international expansion, penetrate new markets, and solidify global partners.
Following the virtual international selection panel (vISP) in which Vu was selected, Endeavor panelist and fellow Endeavor Entrepreneur, Martin Migoya (CEO, Globant), took great interest in the business model. He advised on ELSA's strategic operational plans and personally led investment with Globant. In addition, Endeavor sparked a connection between Vu and David Do of VIG, also an Endeavor panelist, who then led VIG's notable investment in ELSA's Series B raise, which also included Endeavor Catalyst.
" Endeavor gave Vu the unique opportunity to present at an Endeavor Board Meeting, where she pitched ELSA's business model to renowned individuals in the Endeavor Community like Reid Hoffman."
Vu has benefited from Endeavor's top-notch mentor network around the world to support her growth strategy. She had the unique opportunity to present at an Endeavor Board Meeting, where she pitched ELSA's business model to renowned individuals in the Endeavor Community like Reid Hoffman, and also leveraged the network in Brazil and throughout Asia to support ELSA's expansion plans. Endeavor also assisted ELSA in recruiting top talent to ensure delivery of these high-level operations.
Founders like Vu exemplify what it means to be a true Endeavor Entrepreneur. She is committed to giving back to the Endeavor community and has led the way as a successful and motivated female entrepreneur. She currently stands as an Endeavor Outlier, representing Endeavor's top-performing companies.
More Success Stories
Mohamad Ballout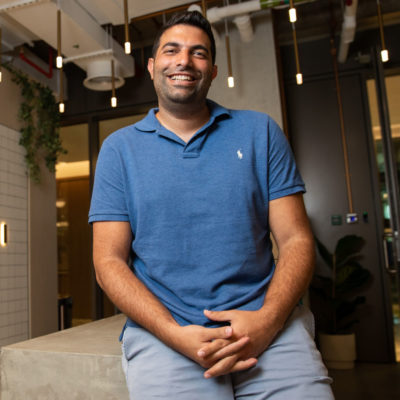 Kitopi
Food & Beverage
Middle East
Kitopi is the world's leading cloud kitchen platform enabling restaurants to open delivery-only locations by providing necessary infrastructure and software with minimal capital expenditures and time, taking care of the entire customer journey.
Adolfo Babatz
Clip
Fintech
Latin America
Clip is the leading solution in Mexico enabling small- and medium-sized merchants to accept digital payments. Since joining the Endeavor Global community, Endeavor has helped Adolfo navigate through the various phases of the entrepreneur journey.
Melvyn Lubega & Andrew Barnes
Melvyn Lubega & Andrew Barnes
Go1
Education & Talent
Africa
Go1 is a platform for onboarding, professional development and compliance training for businesses and their employees. Since joining the Endeavor Global community in 2017 through the South African Office, Go1 has expanded operations across the globe.