Squire
U.S. & Canada
Enterprise Software & Services
Songe LaRon and Dave Salvant Bring Tech to the Barbershop
As most service industry sectors across the world adapt and embrace software solutions that promise to increase sales and operational efficiencies, the barbershop and men's salon industry has been largely untouched by technology. Given the industry is primarily offline or using a piecemeal approach to their online presence, Dave and Songe are thinking big and building a solution.
" This is the network I want to be a part of. Not many people who reach this level are black. We can serve at a lighthouse for other entrepreneurs who are thinking about starting companies but couldn't point to any success stories. I'm fully aware of that responsibility we have."
Dave Salvant
Co-founder, Squire
Songe and Dave were friends in New York City as they began their professional careers, Songe a corporate attorney and Dave on Wall Street. They knew they wanted to launch a company together and would hang out on weekends brainstorming ideas. The barbershop was an important institution for both of them growing up, and they realized that the industry was largely untouched by technology. Hence SQUIRE was born.
The co-founders' next move was critical to the future success of SQUIRE: they purchased a barbershop and operated it for a year, learning the intricacies and nuances of the business and getting deep into the mindset of their future customer base.
"Entrepreneurship is a main vehicle for creating wealth in this country," said Songe LaRon. "We're the first ones in our family lines creating generational wealth through entrepreneurship. To the extent that we do that and help others do that, and Endeavor can be a vehicle to empower us to do that more, that's something I want to be a part of."
Originally conceived as a consumer-facing app, SQUIRE pivoted to become the all-in-one business management software platform it is today, including consumer-facing white-label apps for their top-tier customers. Since being selected by Endeavor, SQUIRE has continued its rapid growth, seeing its valuation soar from $85 million in March 2020 to $750 million in August 2021. The co-founders have leveraged Endeavor's network to expand the business to Australia, raised capital, and scaled their team rapidly. As Endeavor Outliers, they have grown their personal network with other Endeavor Entrepreneurs.
More Success Stories
Mohamad Ballout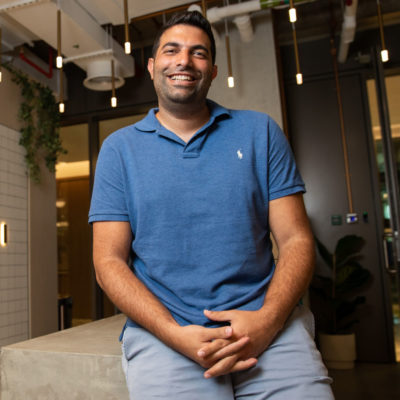 Kitopi
Food & Beverage
Middle East
Kitopi is the world's leading cloud kitchen platform enabling restaurants to open delivery-only locations by providing necessary infrastructure and software with minimal capital expenditures and time, taking care of the entire customer journey.
Vu Van
ELSA
Education & Talent
Asia
ELSA (English Language Speech Assistant) is a mobile application using speech recognition to train English pronunciation and reduce accents. ELSA joined the Endeavor Global Community in 2020 at the 5th Virtual ISP through the Vietnam Office.
Adolfo Babatz
Clip
Fintech
Latin America
Clip is the leading solution in Mexico enabling small- and medium-sized merchants to accept digital payments. Since joining the Endeavor Global community, Endeavor has helped Adolfo navigate through the various phases of the entrepreneur journey.