OneTrust
U.S. & Canada
Enterprise Software & Services
Atlanta-based Unicorn Defines the New Software Market for Trust
Connecting the dots while looking backward can be a simple endeavor; it's easy to see how circumstances fell into place, but while looking ahead, it's hard to see how the dots will connect going forward.
But great entrepreneurs are able to identify a new market still in its infancy and have the sensitivity and guts to jump on a new trend. This ability describes Kabir Barday's entrepreneurial journey. While building Atlanta-based OneTrust, Barday helped redefine the data and compliance industry worldwide, going beyond privacy to building trust. OneTrust is a technology platform designed for tackling privacy management.
While Barday only launched OneTrust in 2015, his story with privacy started years earlier. When he graduated from Georgia Tech, Barday joined AirWatch in 2010. Airwatch's software helped companies secure their employees' mobile devices with monitoring apps installed to flag potential security threats that might expose sensitive data like usernames or passwords. However, this process put privacy at risk as users gave up personal information without knowing it, leading to a security breach for employers.
With this experience in mind, Barday developed "a set of features and capabilities that put privacy for employees first," as he told Inc. Magazine. The new technology won an award from the International Association of Privacy Professionals (IAPP) and landed Barday at a large privacy-industry conference. There, he learned that the industry was not ready for the government requirements regarding consumers' privacy.
The Atlanta-based company is now one of the global leaders in privacy-law-compliance technology.
"Look, you have people who have downloaded spreadsheets from the CRM and emailed it around. You have Facebook, Google, and all these different tools your developers use to build their apps and they can start collecting information from your company before you know it. Maybe you hosted an event, and your event team collected dietary restrictions from attendees and now knows who's kosher versus who's halal. So now you're collecting religious information," Barday said. And Barday knows that collecting religious information is not kosher.
Companies are now required to have technology that manages their customers' privacy. The demand triggered OneTrust to expand worldwide: its website is displayed in seven languages to serve over six thousand clients, big and small – half of the Fortune 500. And that includes Aetna and Oracle. OneTrust technology allows these companies to see the user data they accumulate to comply with privacy laws, like the European Union's General Data Protection Regulation (GDPR) and The California Privacy Act (CPA).
In 2019, OneTrust became a unicorn.
The following year, it ranked number one on Inc. Magazine 5000, a list that ranks companies by overall revenue growth over three years. It's not surprising since the company had more than $70 million in revenue in 2019 and a staggering 48,337% three-year growth rate.
Barday joined Endeavor in March of 2021, meeting with founders who have been through an IPO and now run public companies. Endeavor also connected OneTrust C-level executives and global peers in the Endeavor network to share best practices.
OneTrust has evolved its vision in order to continue leading a fast-evolving market. More than offering different digital tools to help companies comply with privacy requirements, Barday wants to help organizations be more trusted, turning trust into a competitive advantage.
As privacy issues become increasingly more complex, OneTrust is well-positioned to determine the future of the trust market and the way humanity extracts the best of its massive data generation.
More Success Stories
Daniel Scandian, Marcelo Scandian, Robson Privado
Daniel Scandian, Marcelo Scandian, Robson Privado
MadeiraMadeira
Retail & Consumer Tech
Latin America
2021's first Brazilian unicorn, MadeiraMadeira makes international household trends financially and logistically accessible using a cost-effective drop-shipping model. In 2019, Daniel, Marcelo, and Robson became Endeavor Entrepreneurs in Turkey.
Adolfo Babatz
Clip
Fintech
Latin America
Clip is the leading solution in Mexico enabling small- and medium-sized merchants to accept digital payments. Since joining the Endeavor Global community, Endeavor has helped Adolfo navigate through the various phases of the entrepreneur journey.
Mohamad Ballout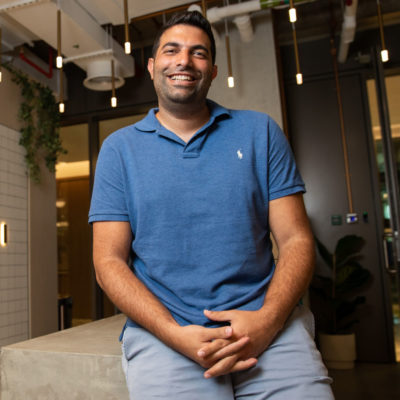 Kitopi
Food & Beverage
Middle East
Kitopi is the world's leading cloud kitchen platform enabling restaurants to open delivery-only locations by providing necessary infrastructure and software with minimal capital expenditures and time, taking care of the entire customer journey.