Insider
Europe
Enterprise Software & Services
Born in Turkey, Insider is the marketing secret of a thousand multinational brands
In 2012, Hande Cilingir was just 32 when she founded Insider – an AI-based platform enabling brands to connect cross-channel data, individualize experiences and predict future behavior.
Cilingir's background in the corporate world and her experience founding an ESL school gave way to a new entrepreneurial opportunity as she discovered that digital marketing needed more mature solutions.
After successfully exiting her first venture with co-founder Serhat Soyoerel, the duo moved on to their next big idea: help digital marketers serve personalized consumer journeys in a cost-efficient way. For that, they partnered with four more professionals.
While Cilingir did not want to raise capital too soon, she continued receiving solid inbound interest from venture capitalists.
Insider was selected by Endeavor in 2014 and more than once, the Endeavor Outliers Program recognized the company among the fastest-growing companies globally.
"Endeavor has always been a trusted partner helping us grow in every way. From opening an office in Japan or the UK to signing our first deals with the world's top enterprise brands, from finding the right hires in a given market to finding the right mentors for our team. Endeavor always provided invaluable support globally," Cilingir said.
Cilingir's story is one of perseverance and success. With hard work and determination, she became a leader in marketing firms worldwide. In 2016, Cilingir was named "Microsoft's Woman Entrepreneur of the Year," and today, Insider helps over 1.000 global enterprise brands manage their multi-channel marketing processes, including Singapore Airlines, Samsung, Uniqlo, and Estée Lauder, among others.
In March of 2022, after raising $121 million in a Series D round led by Qatar Investment Authority, Insider has become one of the first female-founded and female-led SaaS unicorns in the world!
As of 2022, Insider employed over 700 professionals from more than 40 nationalities across 26 countries and 50% of the top executives in the company are women, including the CEO and CFO.
"Endeavor's role in the ecosystem is unprecedented. We will always work hard to pay it forward. We will prove to the world that legendary product companies can be created outside of Silicon Valley. We will inspire more entrepreneurs to start their own companies and change the destiny of their countries and communities. We will reshape the way global brands serve individualized experiences to every customer with our forward-looking technologies," she added.
More Success Stories
Daniel Scandian, Marcelo Scandian, Robson Privado
Daniel Scandian, Marcelo Scandian, Robson Privado
MadeiraMadeira
Retail & Consumer Tech
Latin America
2021's first Brazilian unicorn, MadeiraMadeira makes international household trends financially and logistically accessible using a cost-effective drop-shipping model. In 2019, Daniel, Marcelo, and Robson became Endeavor Entrepreneurs in Turkey.
Adolfo Babatz
Clip
Fintech
Latin America
Clip is the leading solution in Mexico enabling small- and medium-sized merchants to accept digital payments. Since joining the Endeavor Global community, Endeavor has helped Adolfo navigate through the various phases of the entrepreneur journey.
Mohamad Ballout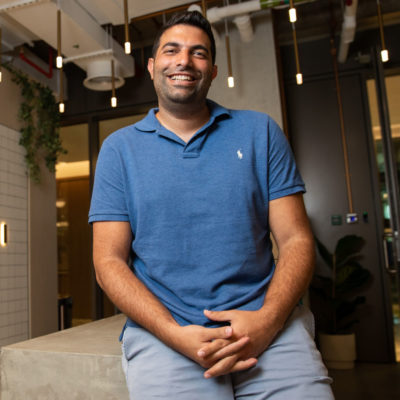 Kitopi
Food & Beverage
Middle East
Kitopi is the world's leading cloud kitchen platform enabling restaurants to open delivery-only locations by providing necessary infrastructure and software with minimal capital expenditures and time, taking care of the entire customer journey.