Go1
Africa
Education & Talent
Melvyn Lubega and Andrew Barnes Redefine Professional Development Across the Globe
People are an organization's most important asset. However, ensuring staff are well-trained across professional development areas can be challenging, time-consuming and expensive. GO1 has set out to make employee training as simple as clicking a button through its online marketplace of over 150,000 professional learning resources.
Go1 has amassed 3.5M+ learners on its global platform in just six years, increasing its user base by more than 300% year on year. GO1 confirmed unicorn status in July following a very successful Series D raise.
" Due to the support and backing of organizations like yours, we've been able to continue on our mission to unlock positive potential through a love of learning. However, this is still just the beginning. Internally we talk about a vision of reaching 1 billion learners — and there is a long way to go on that journey!"
Andrew Barnes (CEO) to supporters, July
20, 2021
Melvyn Lubega and Andrew Barnes crossed paths a short six years ago given their deep-rooted appreciation for education. Melvyn and Andrew met in the Master's program in Education at Oxford and quickly discovered their shared passion for technology's potential to make an outsized impact on learning and training. During their professional careers, they both observed that many companies struggle to develop training content for their staff. Working through a series of business models, Melvyn and Andrew set out to build the largest content marketplace for professional learning.
Today, GO1 serves as the largest curated eLearning library for the world's top training providers. GO1 joined Endeavor in 2017 during the 69th ISP in Kuala Lumpur. The company was at a critical juncture in its growth trajectory as it prepared to rapidly scale its team and expand to new markets.
Melvyn, a member of the South Africa Endeavor Board as of 2021 and recent nominee for the Linda award, perfectly highlighted the company's growth:
"We are extremely proud of what we have built, we know that becoming a unicorn is an important milestone for us and the tech scale-up ecosystem, but we also know that our story is just beginning. We are so excited to be part of the learning space and believe that with the power of education and technology, the opportunities are only just being imagined. We are grateful to our early backers, our incredible team and all our customers for coming on this journey with us."
Since this inflection point, GO1 now supports over 2 million learners worldwide. Endeavor helped GO1 swiftly close a Series C of over $40M and, just recently, a Series D round of $200M with key investments from Endeavor Catalyst, M12 (Microsoft Ventures), Salesforce Ventures, Softbank, and Endeavor Harvest. With the new investments, the company is eager to onboard more partners with better tools for growth, strengthen integrations with platforms to surface great content, and explore additional products and services to assist HR and L&D leaders. GO1 was highlighted on the global Disrupt100 list as one of the most innovative companies in the world.
Endeavor has played a crucial role in leading investor introductions while pairing GO1 with standout mentors and peer-to-peer connections. CEO Andrew Barnes was granted the rare opportunity to meet one-on-one with Endeavor Board Member, Reid Hoffman. This meeting, made possible by Endeavor, provided Andrew with key insights on how to strategically leverage and accelerate GO1's business model. Furthermore, throughout the COVID-19 pandemic, Andrew met on a biweekly basis with 3-4 Endeavor Entrepreneurs to connect and exchange ideas on workforce development and Edtech. These learning groups are just one example of how dedicated Andrew and Melvyn are to giving back to the Endeavor community.
Andrew Barnes and Melvyn Lubega truly embody the values of Endeavor and have actively dedicated their time to Endeavor's mission of "paying it forward." They are committed to unlocking positive potential through a love of learning. Andrew and Melvyn are both active Endeavor Outliers in South Africa and Melvyn, as previously mentioned, is currently sitting on the South Africa Endeavor Board. Melvyn was recognized by Forbes Africa on its 30 Under 30: Technology list. The Endeavor community has capitalized on their shared expertise in the industry, as they both make excellent mentors for other quickly-scaling companies.
Andrew and Melvyn have not only redefined the eLearning industry, they have raised the bar on what high-impact entrepreneurship means for Endeavor.
More Success Stories
Mohamad Ballout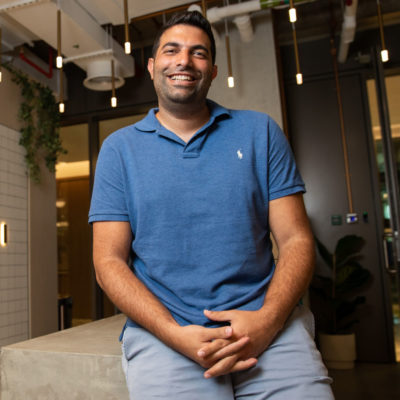 Kitopi
Food & Beverage
Middle East
Kitopi is the world's leading cloud kitchen platform enabling restaurants to open delivery-only locations by providing necessary infrastructure and software with minimal capital expenditures and time, taking care of the entire customer journey.
Vu Van
ELSA
Education & Talent
Asia
ELSA (English Language Speech Assistant) is a mobile application using speech recognition to train English pronunciation and reduce accents. ELSA joined the Endeavor Global Community in 2020 at the 5th Virtual ISP through the Vietnam Office.
Adolfo Babatz
Clip
Fintech
Latin America
Clip is the leading solution in Mexico enabling small- and medium-sized merchants to accept digital payments. Since joining the Endeavor Global community, Endeavor has helped Adolfo navigate through the various phases of the entrepreneur journey.