Go1
Africa
Education & Talent
Edtech GO1 is leading the global reskilling revolution from South Africa
A workforce revolution is underway.
The World Economic Forum predicts that more than 50% of employees worldwide will require upskilling, from leadership to data analysis and computer science. With up to 85% of new jobs in 2030 not being developed yet, training the workforce is critical. Go1, a South African edtech, is embracing the need for upskilling by leading an edtech revolution. The company offers a global solution to an ever-changing workforce.
Powered by Artificial Intelligence, Go1 is an e-Learning ecosystem that gives customers access to the world's largest curated learning and development library from any web-enabled device. Customers – among them the University of Oxford and Microsoft, gain access to content in 17 different languages. Formats include video tutorials, classroom lectures, audiobooks, and structured assessments.
Some are calling Go1's solution "the Spotify of corporate education" or "Netflix of learning."
Co-founded by Endeavor Entrepreneurs Melvyn Lubega and Andrew Barnes, along with their childhood friends Vu Tran, and Chris Hood, Go1 is on a mission to unlock positive potential through a love of learning. The idea came along during their graduation at Oxford a year after they met as classmates – and turned out to be a billion-dollar business changing the edtech landscape from South Africa to Australia.
"We pioneered a single subscription for all workplace training needs and witnessed an increasing demand for lifelong learning, particularly from organizations looking to upskill their staff," said Barnes. The platform offers over 100,000 learning resources from providers including Harvard Edu, EdX, Coursera, Thomson Reuters, Blinkist, and Wall Street Prep, covering many compliances and professional development topics. Simulating a Spotify streaming model, the learning tracks, called playlists, bring together emotional and technical knowledge in a user-friendly interface.
In 2017, Go1 was selected by Endeavor. "I stumbled across the organization speaking at a global entrepreneurship week event, and one of the people in the audience was an Endeavor mentor," said Lubega. "He said: "You must check this thing out." And I replied: "Okay, but first of all, they spell Endeavor funny. In Africa, we spell it with a U. So, they're spelling it incorrectly," he joked.
"At the time, we were a lot smaller but we've always had ambition. The Endeavor network has been a key part of both our African office and worldwide. As you build up an organization, you come across challenges while you're alone at the top. That's why this peer network is phenomenal," he added.
Go1 was among the Disrupt100 list and Linkedin's Top 25 StartUps in 2018 and 2019, then Top 10 StartUps in 2020. Also, in 2020, the company received the Trailblazer Award in the Australian Young Entrepreneur Awards. In 2021, Go1 became the first South African tech scale-up valued at more than one billion dollars and Australia's most recent unicorn.
During the pandemic, the company secured deals with government agencies in Malaysia, Singapore, and at home in Queensland to provide educational resources through its platform. As of 2021, Go1 had over 300 employees reaching 2 million people in 30 countries across all industries and sizes – from 15 to 65 thousand staff members. Every 1.3 seconds, a user completes a course on the platform.
The founders say that scaling comes with challenges – from managing contracts in different currencies to managing sales teams in different time zones. In this sense, Endeavor's network was key to connecting them with locals in different geographies.
"No company needs to wait until it is listed before starting to contribute," he added.
And there's one more asset: "Entrepreneurs also ask each other how they are doing as a person. If a leader and an organization are in the right mindset – and mental health is good – they are able to do a lot more. People can often forget about this when chasing the numbers, as there is no KPI that says: "Are you good? Are you okay?" And that humanized nature is something one can take for granted," concluded Lubega.
Lubega is also a board member of Endeavor South Africa and recently awarded Endeavor's most prestigious accolade, The Lindas, walking the walk when scaling up and paying it forward. In doing so, he is inserting Africa in the edtech innovation map in the best way possible through an example of what it is to be a high-impact entrepreneur.
More Success Stories
Daniel Scandian, Marcelo Scandian, Robson Privado
Daniel Scandian, Marcelo Scandian, Robson Privado
MadeiraMadeira
Retail & Consumer Tech
Latin America
2021's first Brazilian unicorn, MadeiraMadeira makes international household trends financially and logistically accessible using a cost-effective drop-shipping model. In 2019, Daniel, Marcelo, and Robson became Endeavor Entrepreneurs in Turkey.
Adolfo Babatz
Clip
Fintech
Latin America
Clip is the leading solution in Mexico enabling small- and medium-sized merchants to accept digital payments. Since joining the Endeavor Global community, Endeavor has helped Adolfo navigate through the various phases of the entrepreneur journey.
Mohamad Ballout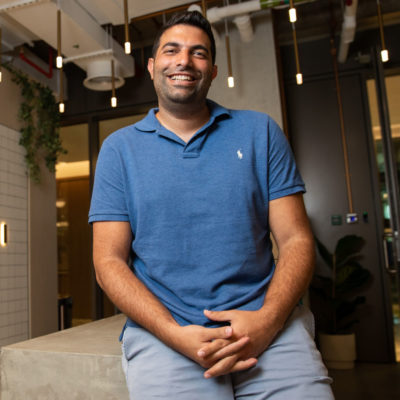 Kitopi
Food & Beverage
Middle East
Kitopi is the world's leading cloud kitchen platform enabling restaurants to open delivery-only locations by providing necessary infrastructure and software with minimal capital expenditures and time, taking care of the entire customer journey.