Carsome
Asia
Retail & Consumer Tech
Eric Cheng Transforms Southeast Asia's Used Car Market
The used car market in Southeast Asia is fragmented and inefficient. Owners have to go through a time-consuming car selling process without the resources to accurately assess their vehicle's value. Meanwhile, dealers struggle to source their inventory quickly without facing high overhead costs and the risk of purchasing lower quality cars above market price. Carsome's online marketplace fixes their pain points with thorough inspection, seamless ownership transfer, swift bidding and payment, as well as extended warranty, providing fair offers to owners and a steady supply of high-quality vehicles to dealers.
For the past five years, Carsome's solution has facilitated sales of around 100,000 cars in Malaysia, Thailand, Indonesia, and Singapore. Now Carsome is targeting 100,000 cars transacted just in 2021 with over 13,000 car dealers in its network, taking on an ever-increasing share of the 4M used car sales volume in its key markets.
" The whole entrepreneurial mindset has always been embedded in me and is reflected in my day-to-day approach to life. No matter what, it seems I always circled back towards starting my own venture."
Like many entrepreneurs, Eric Cheng had his fair share of failures before finding his path to success. He dropped out of college in 2016 to join a multi-level marketing (MLM) business, ran a short-lived household magazine company, and earned money from playing the online game World of Worldcraft. Ultimately, Eric joined interactive online marketing company Innity and quickly rose through the ranks to the Senior Account Manager position. It wasn't long until his entrepreneurial mindset drifted him back to start his own advertising agency. Within its first year, he felt the business was unsustainable and sold his ownership back to his co-founders. After returning to Innity, Eric continued to lead its digital advertising efforts, eventually becoming the Account Director.
In 2015, he was again inspired to try his entrepreneurial hand and convinced his Innity colleague Teoh Juin Ee to launch a car comparison website — Carsome — with him in Malaysia. They soon noticed many users were haggling with local dealers to sell old cars, while dealers struggled to source high-quality inventory. Realizing the market's pain points, the duo shifted Carsome's platform to a "consumer-to-business" (C2B) model, allowing consumers to sell their vehicles to dealers via an online auction platform. Their decision to pivot Carsome's business model proved to be a key to their success — Carsome's user base skyrocketed within a year to over 200K users with 1,000 cars transacted annually.
"I noticed the pain points of the used car industry — the lack of transparency, the complicated and fussy process, and thought, 'why not come up with something to fix it?'", said Eric.
While Carsome was experiencing tremendous growth, its users and dealers were concentrated in Malaysia and Singapore which had small market sizes. Eric also wanted to expand Carsome's technological infrastructure and introduce new offerings like car financing, warranty, insurance, and data analytics — which required more funding. That's when he turned to Endeavor for help in making new connections. While Carsome was vetted in the selection process, he was introduced to new investors and industry experts across financial services and technology in Southeast Asia who provided him with insights on hiring the right talent, product strategies, and market expansion.
By the time Eric joined the Endeavor Global community in 2019, Carsome passed the mark of 36,000 cars transacted on an annual basis and had a data-enabled multi-regional presence in four markets including Thailand and Indonesia. Later in the same year, the company raised a $50M Series C from investors including MUFG Innovation Partners, Daiwa PI Partners, and Endeavor Catalyst.
As the company faced increasing competition, Eric actively sought mentors' feedback on formulating branding and expansion strategies. In 2020, Carsome announced a series of partnerships with regional giants like Funding Societies Malaysia, CIMB Bank, PT Bank Danamon Indonesia, and Allianz Partners Malaysia to bolster its financial ecosystem for used car transactions. The company also launched a "business-to-customer" (B2C) segment and established its name as an industry-standard with a proprietary 175-point car inspection.
Recently, Carsome acquired iCar Asia, the leading C2C vehicle listings platform, and became Malaysia's first unicorn. Eric is forming the largest digital automotive group in SEA by integrating Carsome's C2B and B2C businesses into a hybrid C2B2C model that covers the entire car buying and selling value chain.
Eric's ambition does not end at Carsome. As a strong believer in the power of entrepreneurship, he has always aspired to share his experience and build up the next generation of entrepreneurs in the region. He donated hours selecting and mentoring new startups with Endeavor Malaysia, and has founded Carsome's first technical institution, Carsome Academy, to provide the best learning and practical experience, as well as career opportunities, for Malaysian youths.
"I want to contribute more of my experience and see more Malaysian entrepreneurs pursue their dreams," Eric said in the interview with Prestige Malaysia. "As an entrepreneur who has been through the ringer, I think our talent definitely has the capabilities to go international."
More Success Stories
Mohamad Ballout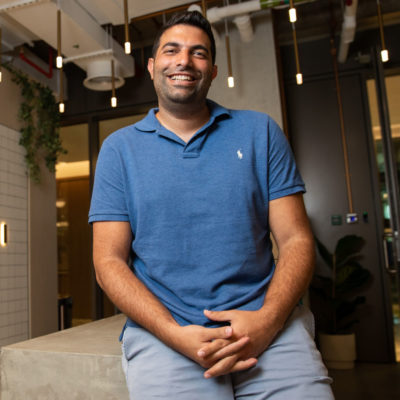 Kitopi
Food & Beverage
Middle East
Kitopi is the world's leading cloud kitchen platform enabling restaurants to open delivery-only locations by providing necessary infrastructure and software with minimal capital expenditures and time, taking care of the entire customer journey.
Vu Van
ELSA
Education & Talent
Asia
ELSA (English Language Speech Assistant) is a mobile application using speech recognition to train English pronunciation and reduce accents. ELSA joined the Endeavor Global Community in 2020 at the 5th Virtual ISP through the Vietnam Office.
Adolfo Babatz
Clip
Fintech
Latin America
Clip is the leading solution in Mexico enabling small- and medium-sized merchants to accept digital payments. Since joining the Endeavor Global community, Endeavor has helped Adolfo navigate through the various phases of the entrepreneur journey.