Carsome
Asia
Retail & Consumer Tech
Carsome Raises the Transparency Bar
'Dream bigger. Scale faster. Pay it Forward'. The motto guiding Endeavor Entrepreneurs starts with growing their ambition.
Eric Cheng, CEO of Malaysia's first unicorn, Carsome, knows that achieving great success requires dreaming big.
He co-founded Caresome, an online marketplace that allows consumers to sell their vehicles to dealers via an online auction. The problem that Carsome solved had had a significant impact on the industry: selling a used car in Southeast Asia was cumbersome. There was a lack of transparency and accuracy to assess a customer's vehicle's value.
For dealers, it could mean struggling to source their inventory quickly, avoiding high overhead costs, and the risk of purchasing lower quality cars above market price.
Cheng went from selling 1,000 cars in 2016 to 100,000 in five years. Carsome is the largest auto sales platform in Southeast Asia, and after a $1B valuation, the company still touches less than 2% of the total addressable market. Cheng has aspirations of building a sustainable company so that Carsome can grow at a faster pace and reach a larger scale.
Cheng launched the company in 2015, initially partnering with Teoh Jiun Ee to solve another problem. First, the duo created a car analysis platform for those searching for new cars, but their focus shifted quickly as they soon realized the need for technology in used cars transactions. Their pivot turned out to be the right decision. Within a year, Caresome's user base skyrocketed to over 200 thousand users and one thousand dealers.
When Cheng joined the Endeavor community in 2019, Carsome was transacting 36,000 cars annually and had a data-enabled multi-regional presence in four markets, including Thailand and Indonesia.
"The road to success is rarely linear. Besides having grit, determination, and perseverance, I have learned to pick the right battles and not fight low-ROI ones," said Cheng.
" My Endeavor mentor has turned his company around with a group of passionate industry experts. This example inspired me to look at our hiring strategies and how we can empower our people to scale to greater heights."
Eric Cheng
Endeavor Entrepreneur & CEO
of Carsome
In 2020, Carsome announced a series of partnerships with regional investment giants, launched a B2C segment, and established its name as an industry-standard with a proprietary 175-point car inspection.
Cheng dedicates hours to selecting and mentoring new startups with Endeavor Malaysia and also founded the Carsome Academy to train his employees. This initiative is a way of filling the void of accreditation for motor vehicle inspectors and certified programs. As the trainees enter their third year working at Carsome, the company reimburses their training tuition.
In 2015, persuading buyers and dealers to transact a significant investment item was presumptuous for most customers. In launching Carsome, Cheng has paved a new road for e-commerce platforms. Today, Cheng's priority is to take Carsome public in less than a year, raising the "ambition bar" and bringing the industry with him.
More Success Stories
Daniel Scandian, Marcelo Scandian, Robson Privado
Daniel Scandian, Marcelo Scandian, Robson Privado
MadeiraMadeira
Retail & Consumer Tech
Latin America
2021's first Brazilian unicorn, MadeiraMadeira makes international household trends financially and logistically accessible using a cost-effective drop-shipping model. In 2019, Daniel, Marcelo, and Robson became Endeavor Entrepreneurs in Turkey.
Adolfo Babatz
Clip
Fintech
Latin America
Clip is the leading solution in Mexico enabling small- and medium-sized merchants to accept digital payments. Since joining the Endeavor Global community, Endeavor has helped Adolfo navigate through the various phases of the entrepreneur journey.
Mohamad Ballout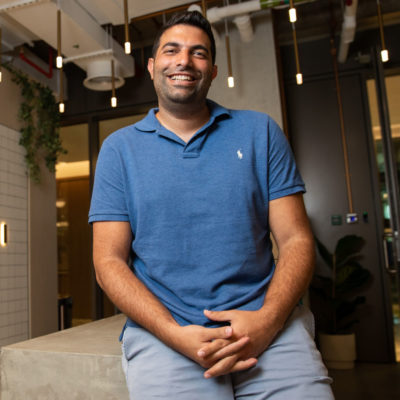 Kitopi
Food & Beverage
Middle East
Kitopi is the world's leading cloud kitchen platform enabling restaurants to open delivery-only locations by providing necessary infrastructure and software with minimal capital expenditures and time, taking care of the entire customer journey.