Flutterwave
Africa
Fintech
Empowering Small Businesses with Flutterwave
Timeframe for African merchants to receive payments settlement from the bank? Two days. Estimate time for an international remittance to reach family or friends in Africa? Two weeks. Born in Nigeria, Olugbenga Agboola did not need more examples to prove that the African payment system was fragmented.
"We needed to make Africa feel like one country", says Agboola. "Someone had to ensure seamless payments between businesses and between our nations." Agboola holds an MBA from MIT, and for a decade, he dived into the world of fintech by working at PayPal, Google Wallet, and three banks.
In 2016, he co-founded and became CEO of Flutterwave, a fintech company that builds infrastructure for business payments across Africa. Headquartered in San Francisco and Lagos, Flutterwave processed over $2 billion in its first two years. By 2021, the company became the fourth African unicorn, serving 17 countries in the continent.
During the 2020 lockdown, Flutterwave went beyond their core business of processing payments at checkout, migrating over 20 thousand small businesses to the digital world, with a campaign motto called "Keep the Lights On.". At Endeavor, we believe that the future of business is to empower ecosystems, and Flutterwave was no exception in revealing how one single scale-up can help an entire industry thrive.
Payment systems, virtual shops, and retail logistics kept 20,000 small businesses unsettled amidst the crisis, but thanks to Flutterwave, they had an end-to-end solution to get back on track and rapidly adapt. The company processed over 80 million transactions worth $ 7.5 billion in that year alone.
"Our customers are our backbone and the reason why we're in business. We build and innovate on our solutions based on their feedback, and find ways to make it easier for them to say 'yes' to us," says the CEO.
" Mentors taught me in different ways that building a billion-dollar company is the easy part. Maintaining that growth is where the hard work begins. This lesson was a huge motivation for my company and me as we started to scale the business."
Gbenga "GB" Agboola
Co-Founder &
CEO, Flutterwave
Olugbenga realized that resilience and the right team are the foundations for any new venture. He also learned that being agile is critical to ensure market demands are met and that keeping an open culture with active listening ensures you have the right team in place to make a meaningful impact.
"I was honored to be a part of the first set of members of the Nigerian Endeavor Network. They have helped me personally, and provided Flutterwave with market entry opportunities and new partnerships", says Agboola.
Fluttewave was awarded "Best Technology Platform" by The Asian Banker, putting Africa on the global map of the most innovative fintechs. And, more broadly, Olugbenga Agboola has become a paying-it-forward role model, paving the way for the next generation of African founders. In 2021, Agboola was named one of the innovators on Time Magazine's Next 100. In 2020, Fortune Magazine included him on its 40 Under 40 list.
More Success Stories
Mohamad Ballout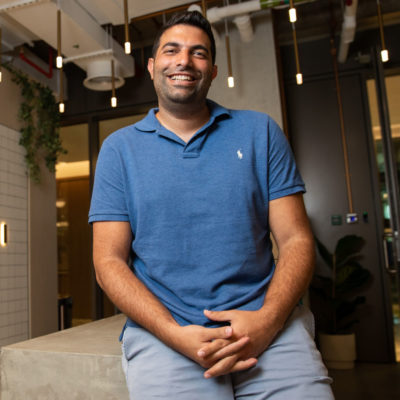 Kitopi
Food & Beverage
Middle East
Kitopi is the world's leading cloud kitchen platform enabling restaurants to open delivery-only locations by providing necessary infrastructure and software with minimal capital expenditures and time, taking care of the entire customer journey.
Vu Van
ELSA
Education & Talent
Asia
ELSA (English Language Speech Assistant) is a mobile application using speech recognition to train English pronunciation and reduce accents. ELSA joined the Endeavor Global Community in 2020 at the 5th Virtual ISP through the Vietnam Office.
Juan De Antonio
Cabify
Smart City
Europe
Spain's first unicorn, Cabify is a mobility platform and ridesharing company. Since joining the Endeavor community in 2015, Cabify has offered reliable transportation and self-employment opportunities to millions of customers and drivers.